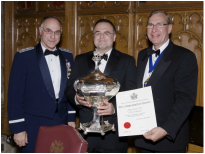 The Cumberbatch Trophy is awarded by the Honourable Company of Air Pilots for outstanding contributions to aviation safety.
The trophy was originally commissioned by Miss Alice Cumberbatch in 1936 and is awarded to an individual, team, group or organization for an outstanding contribution to air safety, whether by the development of techniques contributing to safer flight.
Awarded in 2011 to The LOSA Collaborative.